How can I retrieve my pictures in raw format?
Before you start your observation, open the battery compartment and plug a USB key into one of the two USB-A ports available.
This will allow you to retrieve the final and raw images captured by Stellina. On your instrument page, make sure to select the required formats (note that Export Tiff first needs to be enabled in the Parameters in your profile tab).
The backup will be done automatically during the acquisition.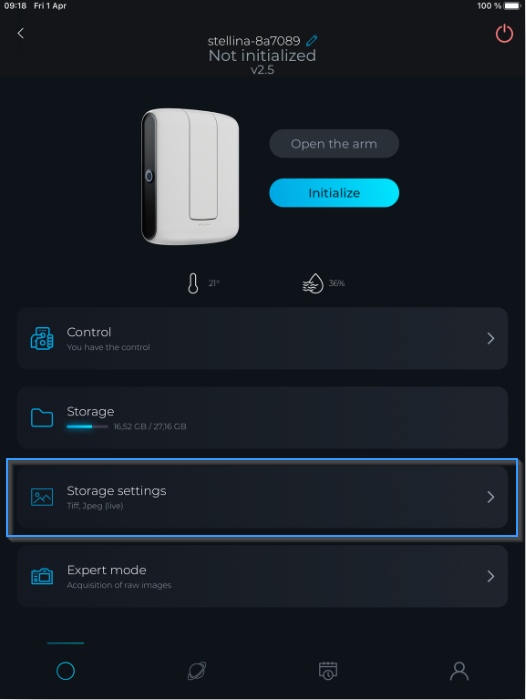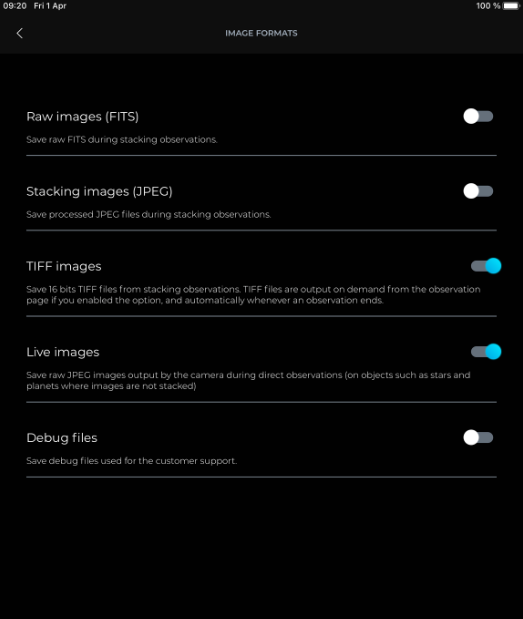 Final photos that have been image processed by Stellina are available in jpg format,
Raw images are available in fits and Tiff format. You can edit them with the software of your choice like PixInSight or Deep Sky Stacker. You can check our guide related to all Stellina's formats and how to treat them here.
To ensure that your USB key is recognized by STELLINA, the remaining storage space on your key must appear on your instrument page (as above).
What capacity for my USB key?
Related Articles

Can I retrieve the raw images and process them myself?

Yes, just plug a USB key into the STELLINA compartment before the start of your observation to retrieve the files in the following format: The final photos processed by STELLINA are available in jpg format. Raw images are available in fits format ...

What are the 3 USB ports in the compartment for?

The compartment dedicated to the storage of the battery includes 3 USB ports: 1 USB-C port for Stellina's power supply via your power bank or a suitable power outlet. 2 USB-A ports: before starting an observation, use one of the 2 ports to connect a ...

My USB flash drive is not detected or the files are not saved on it.

Note: USB ports are only available in Stellina instruments. Open the Space Center and tap on the thumbnail of Stellina (1) to check if your flash drive is detected (2). 1. 2. 3. Select the picture formats you would like to save in the Storage ...

Which USB stick formats are compatible with STELLINA?

Below are the formats compatible with your STELLINA. For Windows users: FAT32 NTFS exFAT ext4 For Mac users: FAT32 exFAT If you have some issues to save your pictures, try reformating your usb stick with the above formats.

What software do you recommend to edit the raw files?

You can edit the raw files delivered by STELLINA with software such as: – PixInsight (stacking & processing) – Siril (stacking & processing) – DeepSkyStacker (stacking) We encourage you to browse the different topics available online and to follow ...