How do I export my photos in TIFF format?
To export your photos in TIFF format, you must first activate this function. To do this, go to your Profile > tap on the 3 dots at the top-right of the screen > Settings > Enable TIFF export.
On your instrument page, make sure you also select the Tiff format in your storage settings here: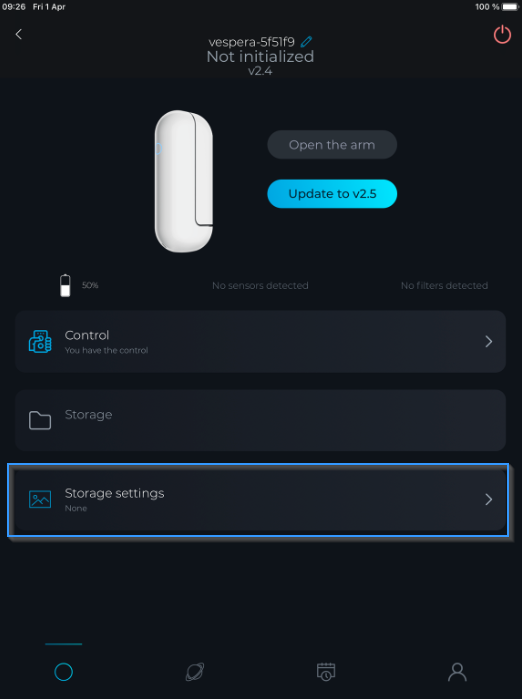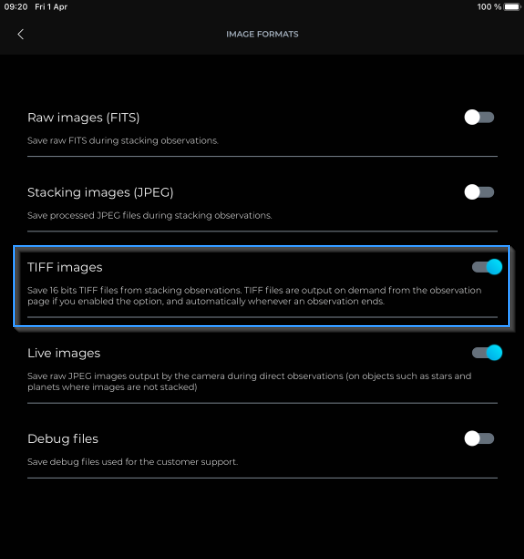 Then, from your "Observation" screen, tap on the 3 dots at the top right of the screen and Export TIFF.
If you're using an iPhone or iPad, you can save the TIFF file in your device Camera Roll or send it directly by email to your own mailbox.




If you're using Android, it depends on the brand and model of the device you're using. If your device does not suggest saving the TIFF file in your Photo Gallery, send it to your mailbox or download it in a Drive (Dropbox, Google Drive...).




For Stellina users, the TIFF file will also be saved on the USB drive you inserted into the battery compartment.



Related Articles

Image processing tutorial with TIFF format

If you would like to start processing pictures with TIFF format, we can recommend the software Affinity Photo and have a look at our dedicated tutorial here.

Why does the exported TIFF photo appear in black?

The TIFF image appears black as the palette of shades the computer screen has is way more limited than that of the TIFF image (256 levels per color on the computer screen versus 65536 levels per color in the TIFF file). To reveal the contrasts, it is ...

How can I retrieve my pictures in raw format?

Before you start your observation, open the battery compartment and plug a USB key into one of the two USB-A ports available. This will allow you to retrieve the final and raw images captured by Stellina. On your instrument page, make sure to select ...

How do we retrieve Vespera's photos?

There are 3 different ways to save your photos with Vespera: On your Singularity app (Jpeg format) - storage is limited to 200Mo On your Mobile device (Jpeg and Tiff formats) Through a wifi connection which will be released shortly (Jpeg, Fits, and ...

What are the image formats available?

Today, 3 image formats are available with STELLINA: JPEG, TIFF, and FITS. These formats are really different from one to another. If you would like to know the strengths and weaknesses from each and how to extract them, please have a look at the ...