I can't open my raw files in Photoshop
The raw files created by STELLINA are delivered in FITS format. This format is specific to astrophotography and needs to be processed a specific way than only experienced amateur astronomers will know how to perform. If you do not have the necessary experience or do not know how to treat FITS files manually, we invite you to edit the JPEG file. These files are editable on software like Photoshop, DXO Lab, …

Here is a summary of all the softwares compatible with Stellina's formats: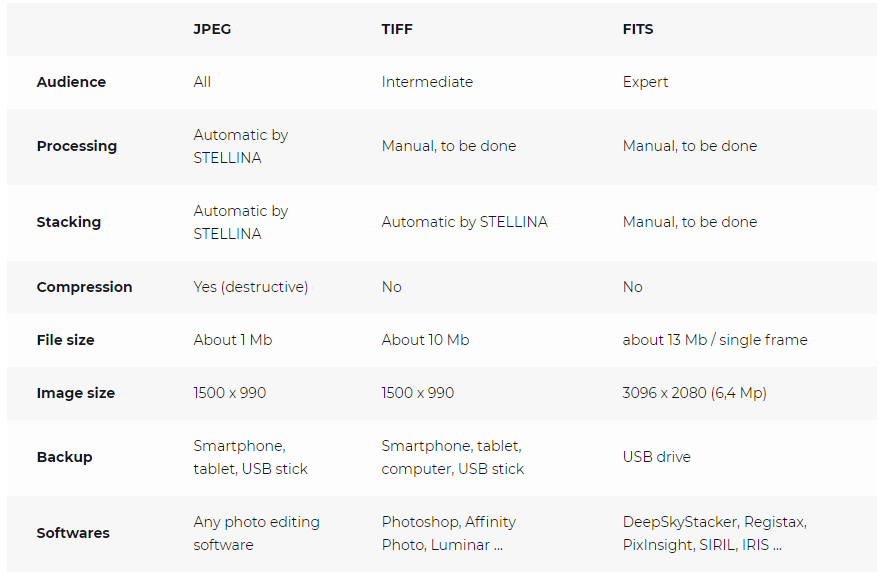 Related Articles

Can I retrieve the raw images and process them myself?

Yes, just plug a USB key into the STELLINA compartment before the start of your observation to retrieve the files in the following format: The final photos processed by STELLINA are available in jpg format. Raw images are available in fits format ...

How can I retrieve my pictures in raw format?

Before you start your observation, open the battery compartment and plug a USB key into one of the two USB-A ports available. This will allow you to retrieve the final and raw images captured by Stellina. A pop up will appear in the app, you will ...

Why do my FITS files appear in black and white?

The FITS files come from a color sensor containing the information organized as a Bayer pattern. To convert them to a colored image, it is necessary to go through a phase called demosaicing (sometimes called Debayering). A single FITS file is not ...

What softwares do you recommend to edit the raw files?

You can edit the raw files delivered by STELLINA with software such as: – PixInsight (stacking & processing) – Siril (stacking & processing) – DeepSkyStacker (stacking) We encourage you to browse the different topics available online and to follow ...

What are the image formats available?

Today, 3 image formats are available with STELLINA: JPEG, TIFF, and FITS. These formats are really different from one to another. If you would like to know the strengths and weaknesses from each and how to extract them, please have a look at the ...