Saving, sharing and editing STELLINA images
On
this link
, you can get a tutorial about the image processing on the 3 diferrent kind ot formats used by STELLINA. It will advise which software to use depending on the selected image format and your level in image processing.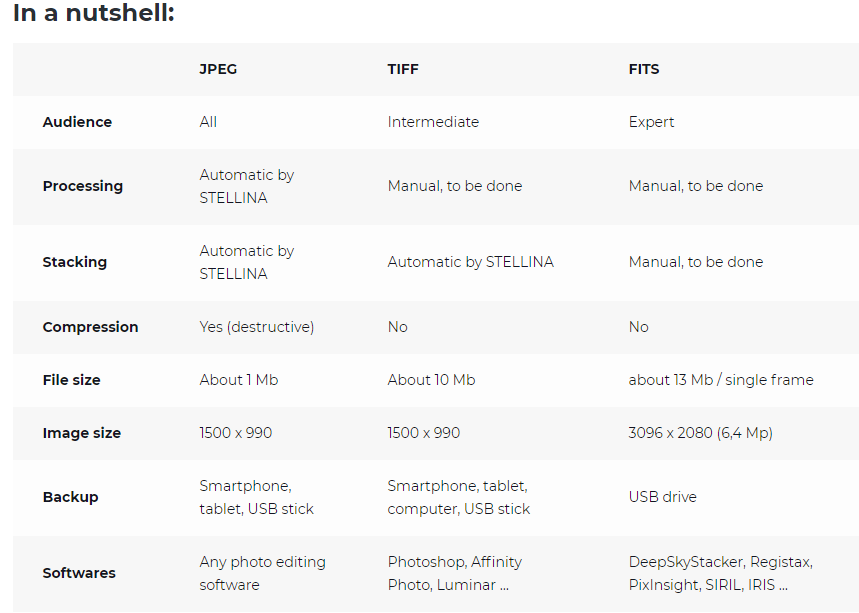 Related Articles

Can I retrieve the raw images and process them myself?

Yes, just plug a USB key into the STELLINA compartment before the start of your observation to retrieve the files in the following format: The final photos processed by STELLINA are available in jpg format. Raw images are available in fits format ...

What are the image formats available?

Today, 3 image formats are available with STELLINA: JPEG, TIFF, and FITS. These formats are really different from one to another. If you would like to know the strengths and weaknesses from each and how to extract them, please have a look at the ...

Image processing tutorial with TIFF format

If you would like to start processing pictures with TIFF format, we can recommend the software Affinity Photo and have a look at our dedicated tutorial here.

Tutorial Affinity Photo

Affinity Photo's tutorial is available here.

Why do the sky backgrounds of my pictures vary so much between the types of objects?

Our proprietary image processing algorithm applies different parameters for each object (colorimetry, saturation, histogram …). That's why you can see rendering differences between your photos of clusters, nebulae or galaxies. The quality of the ...